Diff: FujiBikeReview
Differences between current version and previous revision of FujiBikeReview.
Other diffs: Previous Major Revision, Previous Author
@@ -72,4 +72,7 @@
!!Postscript
It's pronounced ROO-BAY.
---
current version
Oh Man the thing is FAST
I've been getting back in to cycling over the last couple of years. Currently I do a weekly group ride of 20-25 miles and I ride to the train every day for work.
I've been doing this all on a 20 year old Dawes triathlon bike. It's treated me well, but it's very heavy (33 lbs) and too small for me - I'm 6'6" and it's only something like a 58cm frame.
So, I finally bit the bullet and bought myself a proper road bike, a brand new Fuji Roubaix 1.3. Cost me around $1800 all together, and wow am I glad I made the investment. Today was my first ride on the new bike so I figured this would be a good time to give a quick review of it. Overall, I really like the bike. There are however a few things I hope to adjust.
First, here's the bike:
Some key features of the bike:
64cm frame
disc brakes
integrated brake / shift levers
carbon fiber front fork
Shimano 105 Groupset
22 Gears!
First Impressions
This bike is fast! I know that shouldn't be surprising, considering the heavy old bike I've been riding. I was still surprised, though. Along with that, the bike is extremely nimble - I found I was able to maneuver around corners very quickly.
The disc brakes are incredibly powerful. I was warned three times by the bike mechanic who set up my bike to not stomp on the front brakes, and I can see why. There's so much power that you could easily throw yourself right over the handlebars.
As others have noted, disc brakes have pluses and minuses. They tend to be heavier and more complicated than traditional rim brakes. However, these newer disc brakes work extremely well no mater what the weather conditions. Fuji has also lightened the frame to offset any weight increase due to the brakes - for example, the carbon fiber front fork certainly helps with this.
Shifting
Shifting is generally smooth and reliable. I'm still getting used to shifting by using the brake levers as paddles. My other bike has interrupter brakes so I can ride sitting up and still have access to the brakes. Doesn't quite work like that here (I'll explain the the handlebar positions later).
This bike has eleven gears on the rear sprocket! How is that even possible? Anyway, it's pretty handy to have such a wide range of gearing.
Handlebars
One thing I'm not super happy with is the handlebar design which is sort of a bullhorn setup.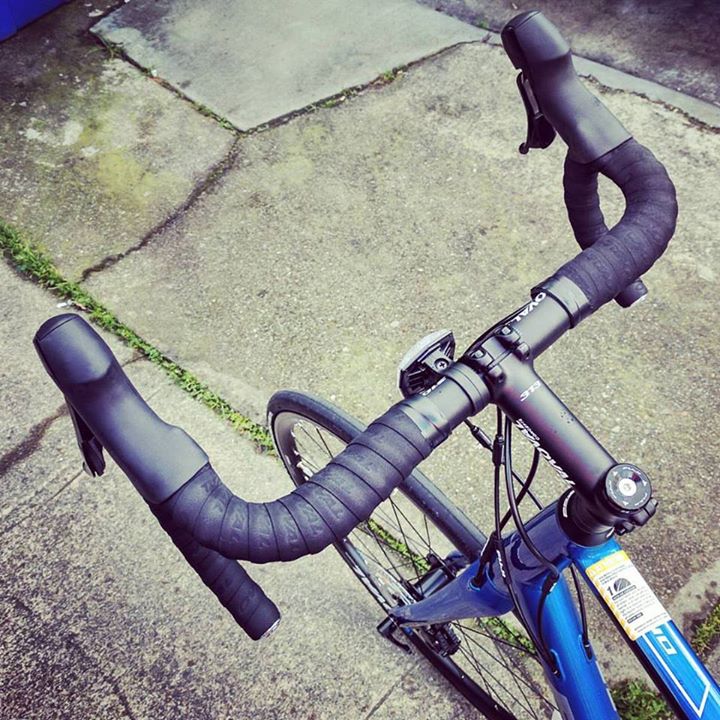 This seems to be the current fashion for road bike handles. I found that there really wasn't enough room on the bottom of the drop bars to hold them comfortably. It also Holding the bars on top with my hands on the brakes/shifters works ok, but I did feel some soreness in my wrists. I feel like I was putting too much pressure on my wrists.
Holding the bars up by the stem is fine, but of course you can't reach the brakes so you've gone to the danger zone.
I bought this bike at Performance and they offer a free fitting consultation so I'll be taking advantage of that shortly. Hopefully that will resolve my handlebar annoyances.
Also I measured my old bike, and the distance from the saddle to the handlebar is several inches longer on this new bike. That probably contributes to the problem - I'm leaning over much more than I did previously. The handlebar stem is 120mm, so perhaps a shorter stem will help by bringing the handlebars closer to me.
Brakes
The brakes on this bike are a real highlight. They are incredibly strong and very easy to modulate. I was worried that they would be too sensitive, but after a bit of riding I was totally comfortable with them. News flash: cranking down on your front brakes is always a bad idea so don't do that, whether your have disc or rim brakes.
I did notice that I could lock my rear brakes really easily and go in to a rear tire skid. That was exciting and possibly not recommended.
On the positive side, I did some riding in the rain today and noticed that my braking was completely consistent. No matter how wet the brakes were, the amount of braking pressure I needed to apply remained constant. Quite a different from how wet rim brakes work.
Also aesthetically the disk brakes are wonderful. Just look at how simple and graceful the rear fork is without rim brakes.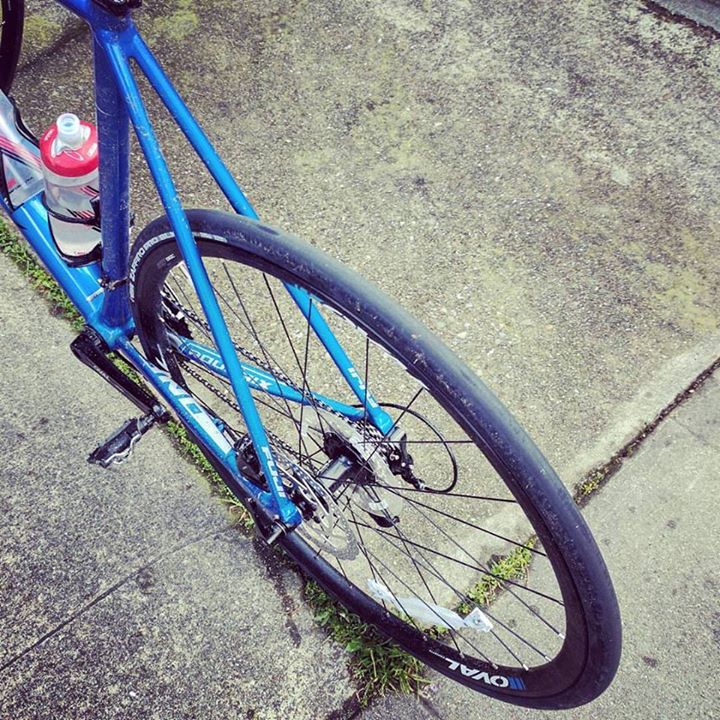 Conclusion
Well what else can I say? I'm really excited to now own this nimble speed daemon. The only thing I don't love is the handlebars, but hopefully I can do some adjusting to address that issue. Everything else about this bike is spot on. Well, maybe I'm not the best judge of bikes quality, considering all my previous bikes have been old and heavy.
Anyway, this bike is majestic and I feel like a pretty princess as I fly down the boulevards.
Postscript
It's pronounced ROO-BAY.
---
---
---