The pace car leads the pack just after turn three: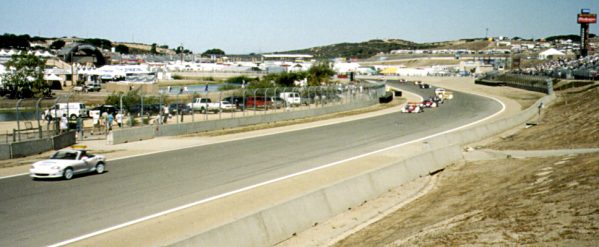 The pace car is a Mazda because Mazda is sponsoring Laguna Seca these days (2002).
The main race that afternoon combined four classes. It was a fairly rare race for the U.S. because two of the classes were Le Mans, which we don't get a lot of - that's bigger in Europe.
LMP900 - the fastest and heaviest Le Mans Class - minimum 900kg, max 6 liter normally aspirated engines (4 liter turbo/super charged). Total racing cars, not stock in any way.
LMP675 - a less powerful Le Mans class, but lighter - minimum 675kg, maximum 3.4L/2L 8 cylinder engines. Again, full race cars, not stock.
GTS - street-legal sports cars with 2 doors and available for sale from dealers.
GT - similar to GTS, but I'm not sure what the differences are (the specs I found were in french).
Looking at the race results, the GT class was mostly Porsches, while GTS included American cars like Vipers and Corvettes.
So basically the GT and GTS cars are recognizable as stock cars, while the LMP class cars are the total race cars with open cockpits.
On to more pics of the cars in action: forward
---
---