Basically our trip covered as many tourist traps in the northern US as possible. After Wall Drug, we drove acroos South Dakota to the next treat: The Corn Palace!
Every year the sturdy and visionary people of Mitchell, South Dakota get together and decorate an entire building with corncobs. No coloring is used - all the shades are naturally occuring in the corn.
The current Corn Palace is actually a large auditorium which hosts concerts, basketball games, etc.
The birds spend the year eating the corn and then the cycle is repeated.
The most vivid memory I have of the Corn Palace: popcorn balls. I bought a couple that were really delicious, and ate them for the remainder of the trip. Nothing like a nice sticky popcorn ball that's been sitting on the floor of your car for a couple of days.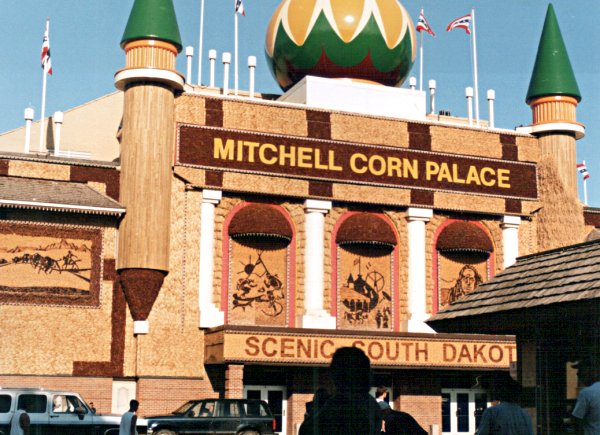 ps - note the russian-inspired minarets and onion domes. If you were clever, you could work up some sort of commentary on the role of both eastern Europeans and Communism in the midwest. Check out the Grange movement, for example.



---
---